Congratulations! You own your own practice. You've spent hours on your education and training and started your business. Suddenly, you're surprised by and snowed under with "running" your business and realize you need help. Where do you look for support now? Where should you begin? Whom should you collaborate with? Are the options confusing? Should I hire a Virtual Assistant (VA) or an On-line Business Manager (OBM)?
I'll start by sharing a question someone recently asked me. "What is the difference between a VA and an OBM and which one do I need on my team."
My research tells us that many entrepreneurs and solopreneurs are confused about the services VAs and OBMs provide and are unable to decide on who to bring on as a partner.
A VA is a professional who partners with a client to provide remote administrative, creative, or technical services and support which include specific tasks or projects. They support your business by DOING the work. Whether it is blog posting, customer service, website creation and maintenance, social media, or other tasks, they get the behind the scenes work done and are the nuts and bolts of your business. Their primary focus is "doing" and they receive their compensation based on the hours they work each month on either a retention or hourly basis.
An OBM is, as the name states, an on-line manager for your business. You partner with an OBM to OVERSEE and MANAGE your business.  For example, an OBM would manage all of the pieces of a project, team members, expenses, and operations.  Their focus is to ensure your projects are completed in an efficient and timely basis. These professionals do not do 'task' work as a VA does. They oversee your VAs, web and graphic designers, bookkeepers, etc., and usually, charge a base fee plus incentives based on your monthly income.
It's easy to visualize this in the Team Growth pyramids below: Today, you're in the triangle alone! And for your business to grow, you'll need to fill in the ranks with the right support.
Here's what you and I know in our bones:
When you began your business, you did so because of
a desire to do the things that bring you joy and make you money.
"Running a business" doesn't make you money, and in essence, running your business
takes you away from the fulfillment of your core desires.
The solution…hire a VA first. Invest in your practice. Invest in yourself. No matter how hard you try, you cannot do it all by yourself. Remember, there may come a time when your practice grows to the point that one VA isn't enough. This is the time to start thinking about adding additional members to your team and eventually, an OBM.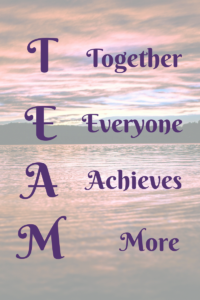 Remember, as a team member, it's my goal to support your growth and success!